Looking for a sewing and embroidery combination machine to expand what you can do with your sewing projects? The Brother SE1900 is a wonderful, feature-packed combo machine that can easily become your primary sewing machine, while allowing you to create beautiful embroidery designs as well.
As a passionate sewist, I've done hours of in-depth research on this machine, so that you don't have to! If you're thinking about adding the Brother SE1900 sewing and embroidery machine to your sewing space, you'll find everything you need to know before you buy below – from features to pros and cons, to tips specific to this machine.
Brother SE1900 Review
The Brother SE1900 is chock-full of useful features (and some you probably won't ever use – but hey, at least you have the option!). Let's first take a quick look at the basic specifications of this machine.
Automatic Needle Threader: Yes
Display Type: LCD, touchscreen
Display Size: 3" x 1.6"
Size: 13.43" x 23.19" x 11.54"
Weight: 22.05 lbs
EMBROIDERY
Built-in Designs: 138, 11 fonts
Speed per minute: 400
On-Screen Editing: Yes
Max. Area: 5" x 7"
SEWING
Free Arm: Yes
Speed per minute: 710
Decorative Stitches: 240
Included Feet: Buttonhole, Overcasting, Monogramming, Zipper, Zigzag, Stitch Guide, Adjustable Zipper/Piping, Non-Stick, Open Toe, Embroidery, Blindstich.
About the Embroidery Half of the Machine
Since this is a combo machine, it's important that both the embroidery mode and the regular sewing mode work well for what you need. As an embroidery machine, the Brother SE1900 performs well, just keep in mind that it isn't a fancy (and uber-expensive) embroidery-only machine – so it's best when speed isn't a concern for your embroidery projects.
Overall, the Brother SE1900 is a great value for the embroidery functions. You get a lot of embroidery features and the ability to create relatively large designs, without the price tag of a high-end embroidery machine.
What you'll like about the Embroidery Half of SE1900:
Based on my thorough research and combing through tons of reviews from people who have purchased and used this machine, here are the pros of the SE1900 when it comes to embroidery.
Great stitch quality
5" x 7" maximum embroidery area is a very versatile size. This is large enough for most designs that a home sewer would need to embroider, without the price tag of a machine with a very large embroidery area.
The display is easy to see and intuitive to use. You can quickly make small adjustments to your design directly on the machine's display, such as changing the size, orientation, thread colors, thread density, and more.
You can upload custom designs with a USB drive or use pre-installed fonts and designs for a quick and easy embroidery project.
Transitioning in and out of embroidery mode is simple.
This machine is relatively lightweight for an embroidery machine, making it perfect for traveling or taking to sewing and embroidery classes.
The SE1900 is intuitive and simple to use – plus, if you get confused, there are tons of resources available. The manual is detailed and includes a lot of troubleshooting tips. For anything not covered in the manual, you can find a range of YouTube videos to help you out, as well as several Brother sewing machine Facebook groups where you can ask questions to other Brother machine users.
Something to Consider about the Embroidery half of SE1900:
Of course, no machine comes without its faults, even the Brother SE1900. The key is to decide if the cons are an issue for your specific sewing machine needs. Below are the negative points about the embroidery mode of this machine that came up repeatedly in my research.
If you will be doing a lot of embroidery – for example, if you have an embroidery business – this machine may not be for you. As a single needle embroidery machine, you will have to switch threads a lot when creating multi-color designs. It also embroiders quite a bit slower than a fancy multi-needle embroidery machine.
In addition, while the 5" x 7" embroidery area is very versatile and great for most users, if you plan on creating many larger-scale designs, you may be better served by a machine with a larger embroidery area.
One of the biggest cons of the SE1900 as an embroidery machine is that it doesn't come with an embroidery software. It comes with the capability of making small edits through the LCD display, but it doesn't include a full embroidery software. This means that if you plan on embroidering custom designs, you'll likely need to purchase an embroidery software separately (or use a free, open-source software).
The machine only comes with one embroidery hoop – the 5" x 7" hoop. This hoop is a very useful size, but you'll probably find yourself wanting a few more hoops to choose from. You can purchase additional hoops relatively inexpensively – if you can't find hoops labeled for the SE1900, look for ones compatible with the Brother PE770, which uses the same embroidery hoops.
There is no way to directly connect your computer or transfer embroidery designs to the machine via Wi-Fi. This means that all designs have to be put onto a USB drive to transfer to the machine.
 Check Price
About the Sewing Half of the Machine
While the Brother SE1900 is an awesome embroidery machine, it's no slouch when it comes to regular sewing either! In my opinion, this is one of the best things about the SE1900 – it performs well as both a sewing machine and an embroidery machine, something you can't say about all combo machines!
If you try out this machine, you may find yourself ready to make it your primary sewing machine, even if you purchase it primarily for the embroidery features.
What you'll like about the Sewing Half of SE1900:
This versatile machine has a lot of pros when it comes to the regular sewing mode – here are some of the top reasons to get this machine for sewing.
It creates high-quality, even stitches.
The sewing area is well-lit with an LED light, making it easy to see what you're working on.
The SE1900 has an automatic needle threader – no more hand-threading needles!
The LCD touchscreen is intuitive and simple to use for making stitch adjustments.
There are a lot of stitch options available – including 10 different one-step buttonhole stitches!
An interesting feature of the SE1900 is that it can sew a straight stitch and a zigzag stitch in all four directions – forwards, backwards, right, and left!
7 specialty sewing presser feet (in addition to 1 embroidery foot) are included – a buttonhole foot, overcasting foot, zipper foot, zigzag foot, monograming foot, button fitting foot, and a blind stitch foot.
This machine does include a reverse button for backstitching, but it also has a stitch reinforcement function. When selected, the machine sews over the same stitch multiple times as an alternative to backstitching, which can result in a nicer-looking start to your seams.
The SE1900 sews quietly, making it perfect if you live in an apartment or do a lot of sewing at night while others in your household are sleeping.
As with most Brother machines, the SE1900 is very easy to use and comes with a detailed manual. If you find yourself needing additional help beyond the manual, there are many troubleshooting and instructional YouTube videos on the machine, as well as Facebook groups for Brother sewing machine users to get help.
The machine has a large throat area, which is useful if you like quilting or sew a lot of large projects that need more space between the needle and the machine.
Something to Consider about the Sewing half of SE1900:
The Brother SE1900 performs very well as a sewing machine, so there actually aren't that many cons. Below are the few things you might want to take into consideration if you are interested in using this machine for regular sewing.
It's not cheap for a sewing machine. While the SE1900 is quite affordable as an embroidery machine, it's on the more expensive end as a sewing machine. If you don't intend to ever use this machine for embroidery, you can likely find a cheaper machine that works just as well for regular sewing only.
Sometimes, this machine may suck thread into the bobbin area or have issues with the bobbin thread showing through on the right side of your seam. However, this issue can usually be resolved through adjusting the tension and checking that you're using the correct thread and a sharp needle.
 Check Price
How easy is it to make the switch?
Switching between sewing mode and embroidery mode is easy and quick on the Brother SE1900. All you need to do to go from sewing mode to embroidery mode is switch the presser foot out for the embroidery foot, then remove the sewing flat bed and replace it with the embroidery arm. To switch back, simply reverse that process.
What embroidery needles do I need to buy to use this machine?
Brother recommends using a 75/11 needle when embroidering with the SE1900. You can use a universal 75/11 needle if that's all you have, but you will likely have better luck using 75/11 embroidery needles.
What hoop sizes can I use with this machine?
The SE1900 comes with a 5" x 7" embroidery hoop. However, you can purchase compatible hoops in different sizes. Here are a few of the best hoop sizes to add to your collection if you purchase the Brother SE1900:
1" x 2.5"
4" x 4"
5" x 12" (just keep in mind that the design itself can't be larger than 5" x 7")
 Check Price
Brother SE1900 Embroidery Designs
The Brother SE1900 comes with 138 embroidery designs and 11 fonts already built in. 7 of the fonts are English, while 3 are Japanese, and the last is Cyrillic.
A lot of the 138 designs are very fun and would look great embroidered onto a top, blanket, or other project. The built-in designs are a great place to start. Here is Brother's full list of included designs. You can make (very) limited edits to these designs through the touchscreen on the machine.
Once you're ready, you can create your own embroidery designs using an embroidery software of your choice, then import them into the machine through a USB drive. Just make sure that your files are in .pes, .phc, or .dst formats only – and remember to unzip any zipped folders before importing them to your machine.
Brother SE1900 Embroidery Designs Guide
Brother SE1900 Embroidery Software
Unfortunately, the Brother SE1900 machine doesn't come with embroidery software, so you will have to choose your own software if you want to create custom designs. Most embroidery software will work with the SE1900, just make sure it can export your designs in one of the 3 formats that are compatible with the machine (.pes, .phc, or .dst, but preferably .pes).
Some good options for embroidery software are SewWhat-Pro, Embird, and Hatch Embroidery 2, but shop around and try some free trials of different software before settling on one. You can also try some of the free options out there, but keep in mind that they are often not as user friendly or feature-rich as paid software.
Brother SE1950 vs SE1900
The Brother SE1950 is the new kid on the block in Brother's combo machine lineup. It's a direct "upgrade" from the SE1900 – but they didn't make many changes. The only difference between the two machines is the coloring/design on the front of the machine. The features and functionalities are exactly the same.
Brother SE1900 vs PE800
The Brother PE800 is another bestseller in their lineup. The PE800 has the same embroidery capabilities as the SE1900 – the same built-in designs and embroidery area. The difference is that the PE800 doesn't have the sewing capabilities of the SE1900. It is an embroidery-only machine.
The PE800 is a bit less expensive since it doesn't have the sewing features of the SE1900. This makes it a great choice if you already have a primary sewing machine that you love and just want to add an embroidery machine to the mix!
Brother SE1900 vs SE600
The Brother SE600 is a popular combo machine, especially for those just dabbling in machine embroidery. It is a combo machine similar to the SE1900, but has a smaller embroidery area (max 4" x 4"), fewer built-in designs, and a slower stitch speed.
If you don't think you will need to embroider anything larger than 4" x 4", the SE600 may be a better (and more affordable) option. However, if you really get into embroidery, you may find this size limit restricting.
Brother NS2750D vs SE1900
The Brother NS2750D and the SE1900 have very similar features, the sewing and embroidery capabilities are almost identical. Both machines have 138 designs built in, but the NS2750D, as a Disney-themed machine, has 35 of the 138 designs focused on Disney characters. In addition, the NS2750D has both a 5" x 7" hoop and a 5" x 12" hoop included, where the SE1900 only has a 5" x 7" hoop.
The NS2750D could be a great comparable machine for you if you love Disney movies and shows!
Brother SE1900 Sewing and Embroidery Machine Bundle
If you're ready to add the SE1900 to your sewing space, you may want to shop around for a bundle that includes some embroidery supplies with your machine to get you started.
There is an SE1900 grand slam package carried by several stores that includes the machine as well 64 embroidery threads, a CD of 15,000 embroidery designs, embroidery stabilizer, embroidery scissors, and more!
Brother SE1900 Price
You can purchase the Brother SE1900 from an online retailer, such as Amazon or SewingMachinesPlus, and have it shipped directly to your home. This is often the most convenient and inexpensive option.
Another option is to purchase your SE1900 from a physical store in your area. The price can differ quite a bit between these two options. Often, the local shops do sell their machines for more than a big box store. However, they sometimes have great deals on used and floor model (display) machines. In addition, if you purchase from a local store, they often give you free lessons and support with your purchase, which can be very valuable!
 Check Price
Brother SE1900 On Sale
Do you feel like the Brother SE1900 is the perfect fit for what you need, but it's just a bit out of your budget? I get it!
If that's the case, I highly recommend looking around to find this machine on sale or secondhand. To find a secondhand machine, watch your local Facebook marketplace and thrift shops. You can also check out sites like eBay. If you don't have any luck finding a used machine, watch for sales around holidays – especially Black Friday sales after Thanksgiving!
Brother SE1900 Manual
If you purchase a Brother SE1900 sewing and embroidery machine, the manual will become your best friend as you get familiar with your new machine. Brother has put together a very detailed and easy-to-follow manual for this machine. You can find it HERE.
Brother SE1900 Manual
Brother SE1900 Quick Start Guide
Brother SE1900 Tutorial
Since the SE1900 is such a popular machine, there are a lot of helpful YouTube videos out there showing you how to use all the features of this machine. Here is a great tutorial on how to use the Brother SE1900 sewing and embroidery machine.
Brother SE1900 Compared to Main Competitors
And now let's compare the Brother SE1900 bestseller to its most similar models of the same brand, SE1900 vs SE600 vs NQ1600P vs PE800, so you can have a quick glance to all of their features.
Machines
Embroidery
Features
Sewing
Features
Other
Dimensions
Price

Brother SE1900
650 spm*
138 Designs
11 Fonts
5″ x 7″ Area**
850 spm*
240 Stitches
7mm Width
10 Buttonholes
– Free Arm
– Speed Control
– 22.05 lbs
– 17.6″ x9.5″
x11.8″
– 163mm/ 6.4″
Arm Length
Check Price

Brother SE600
400 spm*
80 Designs
11 Fonts
4″ x 4″ Area**
710 spm*
103 Stitches
7mm Width
10 Buttonholes
– Free Arm
– On-Screen
Editing
– Speed Control
– 11.82 lbs
– 21.2″ x15.5″
x16.5″
– 163mm/ 6.4″
Arm Length
Check Price

Brother PE800
850 spm*
138 Designs
11 Fonts
5″ x 7″ Area**
–
– On-Screen
Editing
– Speed Control
– 13.74 lbs
– 21.8″ x19″
x19.1″
– 210mm/ 8.3″
Arm Length
Check Price

Brother NQ1600E
650 spm*
198 Designs
11 Fonts
6" x 10" Area**
–
– Speed Control
– 8.3″ Arm Length
– Included Foot:
Embroidery.
Check Price
*Speed Per Minute: referring to the number of stitches a machine can perform in a minute.
**Area: referring to the maximum embroidery area that an embroidery machine can reach.
Click to rate this post!
[Total: 1 Average: 5]
Some other articles you may want to read: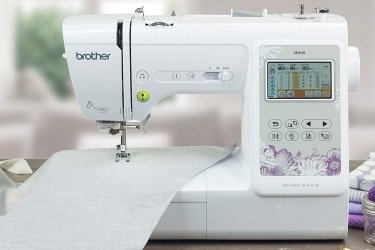 Brother SE600 Sewing and Embroidery Machine Review
Brother PE800 Embroidery Machine Review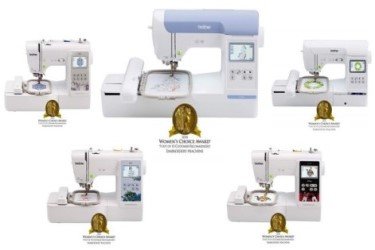 Brother Embroidery Machines
FAQs
What can the Brother SE1900 do?
The Brother SE1900 can function both as a regular sewing machine and as an embroidery machine. It's a great option for someone interested in both as it can do both regular sewing and embroidery quite well.
Does the SE1900 cut jump stitches?
The Brother SE1900 does not cut jump stitches. This is one downside to the machine – you'll have to trim those stitches yourself as the design is being embroidered to avoid puckering.
Do you want to read more about it?
Is the Brother SE1900 a low shank sewing machine?
The Brother SE1900 is a low shank sewing machine, as are most Brother machines.
What file does the Brother SE1900 use?
The Brother SE1900 can work with 3 types of embroidery files: .pes, .phc, and .dst.
Genereally, .pes is the best format to use and gives the machine the most information to work with.
Check out the embroidery designs of the SE1900 in this article.