Once you've made up your mind to buy a Singer sewing machine, the next step is to figure out what kind of model is the right one for you, based on your needs. Find the best options listed and reviewed below as well as a comparison chart.
Feel free to check out our research on the Best Sewing Machines you can buy today.
Top 7 Best Singer Sewing Machine Reviews
Built-In Stitches: 600
Buttonholes: 13 One-Step
Speed per minute: 850 spm
Free Arm: Yes
Included Feet: General Purpose, Zipper, Buttonhole, Satin, Blind Hem, Open Toe, Cording, Darning/Embroidery, Even Feed/Walking, Overcasting, Button Sewing, Narrow Hem, Quarter Inch.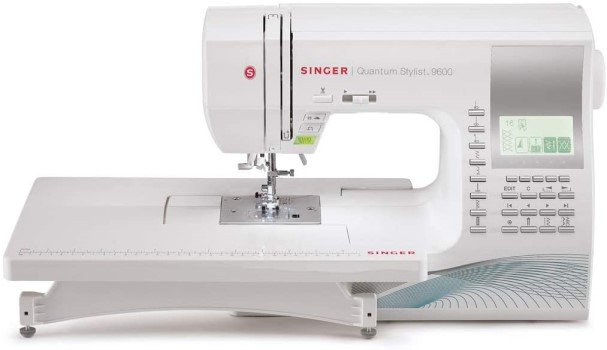 If you are just starting this new hobby, you'll find that the Singer 9960 is pretty easy to use and very intuitive even if you are no expert. The bonus pack makes this one a great opportunity to get a hold of many accessories for an affordable price. No matter if you're a beginner or an experienced sewer, you won't need to purchase any extra foot.
Give this machine a try, and you'll see how it takes you from a beginner stage to an experienced sewer one without having to upgrade to a new machine.
With the Start/Stop button and Speed Controller option, you'll be able to leave your pedal foot aside for an even more intuitive experience. Also, thanks to the automatic threader and the thread cutting feature, you'll save a lot of time for future projects. You'll be surprised how efficient it is to avoid reaching the scissors every time you need to cut threads.
A great accessory that comes included is a walking foot that becomes invaluable when working with a piece of quilting or minky fabric.
As always, remember that the highest quality you use for threads and needles, the smoother your experience, and the neater the stitches will be for all your endless sewing and crafting projects.
What you'll like:
Extension table Included.
Hard Dust Cover Included.
Needle Up/Down for free motion quilting or apliqué.
Thread trimmer Button.
Built-In Needle Threader.
Metal Frame.
Perfect for quiet night sewing.
To take into Account:
Sensitive buttons closed to the sewing area.
No presser foot pressure adjustment although easily fixable with an included walking foot.
Built-In Stitches: 11
Buttonholes: 1 Four-Step
Speed per minute: 1100 spm
Free Arm: Yes
Included Feet: All-purpose, Buttonhole, Button Sewing, Zipper.
If you're looking to buy a good, reliable model for everyday sewing and mending or even hemming some of your pants now and then this could be a great option for your needs. It's a great light sewing machine for the price, and it beautifully stitches standard cotton fabrics as well as quilting fabrics once you have adjusted the settings correctly.
This machine has an easy starter setup, it's simple and has few features so you can't go wrong. It's also a great value for what it does, and it's the perfect machine to learn how to handle the different tricks that can be found when you're sewing with just any sewing machine before moving on to more expensive models.
Nevertheless, I would advise you to keep looking at some other machines if you expect your new machine to sew heavy-weight materials such as leather, vinyl, denim, canvas, etc. Although it may be able to do some spare heavy duty sewing, the reality is that the machine cannot stitch through them consistently, and the engine will eventually break down. Don't let the name mislead you in the wrong direction.
Singer 4411 can't really be considered a heavy-duty sewing machine. Think of it as a regular home sewing machine with a stronger motor (0.7Amps).
What you'll like:
Great for everyday light sewing and mending.
Good value for price.
Perfect if you only want a basic machine with basic stitches.
To take into Account:
Stronger motor than domestic models although not really a heavy duty sewing machine.
Built-In Stitches: 960
Buttonholes: 13 One-Step
Included Feet: Multi-Purpose,Buttonhole with Underplate, Zipper, Blind Hem, Satin Stitch, Overcasting, Darning/Embroidery, Rolled Hem, Button Sewing, Quarter Inch, Open Toe, Even Feed/Walking, Cording.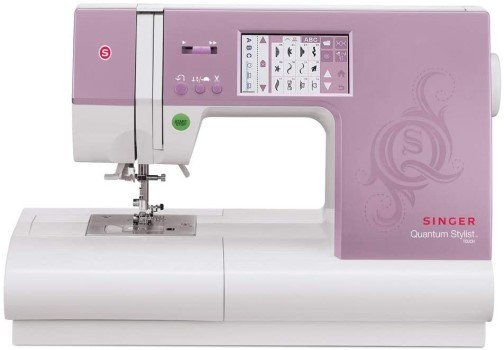 This machine is a great option for you if you've sewn before but you lack a lot of experience because while it's very easy to use out of the box you may encounter some more advanced features that may discourage the newbie from learning more.
Nevertheless, if you are an experienced user or a mechanically skilled beginner eager to learn, its metal frame provides longer durability than some other more plasticky machines while it comes with more than all the necessary accessories for any sewer to fully enjoy this hobby.
And although Singer 9985 has plenty of advantages among its many bells and whistles, it also comes with some downside worth knowing before deciding on this model. You see, a common flaw in affordable domestic machines is a needle threader that fails more times than it actually works, and unfortunately, that's the case.
However, most owners are thrilled by the thread cutter, the tie-off function, the transparent bobbin cover, and the many decorative stitches that can be rotated and mirrored to add more options to the already long list. In addition, the manual speed control and Start/Stop button allow you to practice and improve your sewing skills as you go. You know that a deal-breaker when looking for a new machine is the quality of stitches. Well, this machine passes the test with fantastic grace.
The machine's weight also adds up and helps it stay solid wherever you place it without making much noise, thanks to a quiet motor.
What you'll like:
Great degree of precision and quality for decorative stitches.
Built-In Thread Cutter and Automatic Tie-Off Button to automatically finish seams and keep sewing helping you save time.
Reverse Button to lock seams.
Speed Control and forget about the foot pedal.
Twin-Needle Function.
To take into Account:
Built-In Needle threader doesn't always work.
Some models have a tendency to jam although it could be a user's error.
No knee lifter as found in higher-end machines.
Built-In Stitches: 6
Buttonholes: 1 in Four-Steps
Included Feet: All Purpose, Zipper, Buttonhole.
Singer M1500 is a great choice for you if you want to buy it as a basic starter sewing machine. Apart from being very easy to operate and super simple to thread, it's also good for basic sewing or to have as a portable machine. Furthermore, it's definitely perfect as a little machine to learn how a sewing machine works, how to take care of it, and learn all the basics of threading, winding a bobbin, changing the tension and stitch length features that every machine has.
You could say it's the perfect training machine for beginners or advanced kids who still need to learn how to fix the different issues that can be dealt with when sewing for a very reasonable price.
What you'll like:
Perfect to learn how a sewing machine works without expending a fortune.
Compact and lightweight.
Easy to move around and store.
Best value & budget for a basic Singer sewing machine.
To take into Account:
Online Manual.
Pretty basic for the daily sewer.
No needle threader.
Not the best option for advanced sewers.
Speed per minute: 750 spm
Free Arm: Yes
Speed per minute: 750 spm
Free Arm: Yes
Included Feet: General Purpose, Zipper, Buttonhole, Blind Hem, Rolled Hem, Overcast, Satin Stitch, and Darning/Embroidery.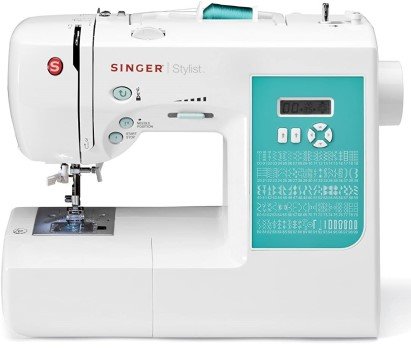 If you want to do basic sewing tasks at home, you'll love this sewing machine. Now, while it really works great for regular sewing don't expect it to sew on heavy quilts or multiple layers of fabric because it isn't a heavy-duty machine.
While not strong enough to work on thicker fabrics, it's packed with advanced features to make your task super easy and enjoyable while helping you save tons of time.
Forget about threading, tying the thread after sewing, and even using the foot pedal if you don't feel like it as this machine will do it all for you while creating beautiful stitches for such a price point.
If you know that sewing is your thing and keep fantasizing about buying a good value machine to start creating your first serious projects this is your one.
I believe it would also make a great option for any beginner or novice, even young kids, who want to develop their skills without having to buy an upgraded any time soon.
Feel free to check out the Best Singer Sewing Machines for Beginners.
What you'll like:
Reverse Touch Button to secure seams easily.
Start/Stop Button to sew without using the foot pedal, if desired.
Drop-In bobbin system with transparent case cover.
Tie-Off Button to stop sewing automatically.
Needle Threader that saves you time and eyesight.
It adjusts the tension automatically depending on the selected stitch.
To take into Account:
The LED light could be brighter.
You can't drop the feed dog for freehand quilting.
The pedal cord could be longer.
Not for heavy quilting or heavy duty fabrics.
Built-In Stitches: 32
Buttonholes: 1 One-Step
Speed per minute: 1100 spm
Free Arm: Yes
Included Feet: All-purpose, zipper, buttonhole, button sewing.
Singer 4452 is a straightforward, simple machine with more stitches than the average mechanical sewing machine. It sews through heavier fabrics than most household sewing machines at a good price and can be also perfect as a second home sewing machine.
Although the power of the motor and the speed are surprisingly efficient for a household model, understand that even if you can use it for heavy-duty purposes with the right thread and needle, it can only take up to a certain amount of hard work as it is not industrial.
If you can only afford to invest a certain amount of money on a reliable and powerful sewing machine this is definitely a good option. In addition, you'll save some money as it comes with several heavy-duty accessories, including a walking foot to easily sew through several layers of material, a non-stick foot for thin leather, a clearance plate for thicker seams, and some extra heavy duty needles.
If you want to sew heavy-duty crafts on a daily basis, please do invest in an industrial sewing machine, some of which are as affordable as $400 and will fully support you with your actual needs.
What you'll like:
Even at full speed it never shakes, no matter the table it's on.
Even Feed/Walking Foot Included perfect for multiple layers of material.
Non-Sticky Foot Included perfect for leather or vinyl.
Extra Heavy Duty Needles as a Bonus.
Clearance Plate Included for thick seams.
Masculine Look.
To take into Account:
Small throat for quilting.
Light is a bit poor, consider adding a light flex.
Noisier than average due to its stronger engine.
Using it for thicker fabrics on a continuous basis may break it.
Number of Threads: 2, 3 or 4
Chainstitch: No
Speed per minute: 1300 spm
Coverstitch Function: No
Included Feet: Standard Multipurpose.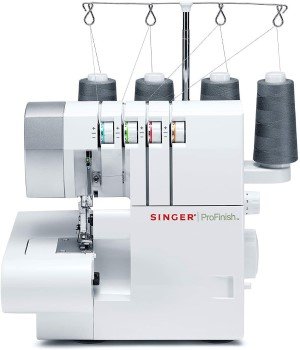 After you conquer the initial learning curve that any serger machine can have, you'll realize the wonders one of these beauties can help you make. It's so easy to learn how to use it, that your creativity will explode the moment you get a glimpse of the creative options it provides.
Besides, it's probably the best-priced Singer choice, it creates the most beautifully made stitches, and it's for sure the best Singer serger for beginners.
Learn this common mistake and prevent issues: some users mistakenly pass the thread between the disk and the tension dial which will consequently make the tension on the threads untightened and therefore causing the machine to skip stitches and breaking the thread often. Check your manual or watch any YouTube videos to get it right from the beginning.
What you'll like:
Well priced for any beginner who wants a serger.
It comes with a free arm to serge on sleeves and other round hems.
The extra-high presser foot Lifter allows you to stitch through heavier fabrics.
To take into Account:
Read the piece of advice provided above to help you avoid the trickiness of the threading system.
People with arthritis or similar might have trouble threading it.
Singer Sewing Machines Comparison Chart
Explore here a comparison of the main features of all the reviewed Singer Sewing Machine models and prices.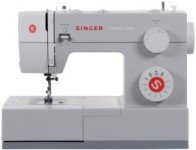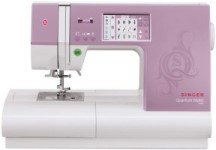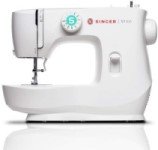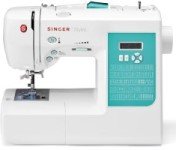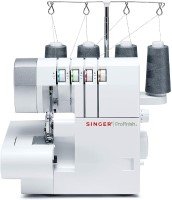 *Speed Per Minute: referring to the number of stitches a machine can perform in a minute.
Click to rate this post!
[Total: 6 Average: 5]
Some other articles you may want to read: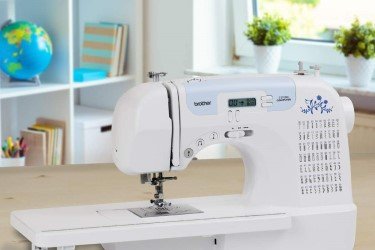 FAQs
What is the Best Singer Sewing Machine for Beginners?
As you might have guessed, there isn't just one Singer sewing machine that best suits beginners, there's plenty of them depending on what you're looking for in terms of features, decoratives stitches, or personal sewing crafts preferences.
That's why we've prepared a specific article about the Best Singer Sewing Machines for Beginners.
Which is the Best Singer Heavy Duty Sewing Machine?
What does heavy-duty mean to you? Are you getting carried away by the Heavy Duty label of Singer 4411, 4423, 4432, 4452?
Or is it that what you really need is an industrial sewing machine, but you're afraid of taking that step? No matter your answer, we have you covered in the Best Singer Heavy Duty Sewing Machines article.
Are Singer Sewing Machines good quality?
If you forget about the Singer label and evaluate each machine for its own price value, you can certainly say that the overall quality of these machines is good. See Best Singer Sewing Machines.
However, when you compare it to what the Singer brand used to be a few decades back, new designs and manufacturing leave much to desire. If you are in doubt of its quality, which I personally understand, you may want to check some other brands with superior quality in our Best Sewing Machines article.