No matter the kind of projects you want to make, whether it's for a home business or simply to add a new model to your sewing room, having a cobbler sewing machine can be extra handy.
Maybe you're looking for a footwear sewing machine, or you want to fix tennis shoes, or you just want a cheap Chinese shoe patcher for your leather goods, no matter what you have in mind, we've created a list with great options for you.
Read more about:
Best Leather Sewing Machines
Best Hand Operated Sewing Machines
Best Budget. Cobbler Sewing Machines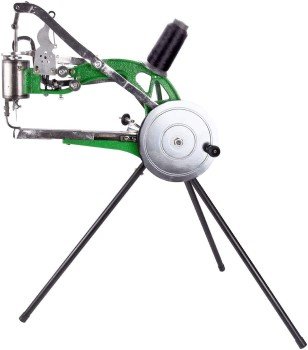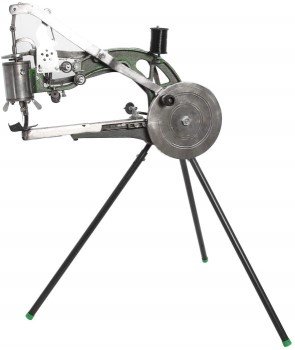 Check FamYun
 Check Kekeross
 Check Ironwalls
For a little more than a hundred dollars, any of these hand-operated options, also known as a 'Chinese cobbler sewing machine,' can be the perfect and affordable upgrade tool to stop repairing heavy duty garments by hand.
What's great about these shoe patchers is one, the affordable price, and two, the slim cylinder bed that can access any tricky corner of the item you're working on. These are the cheapest version of an industrial cylinder bed machine you'll ever find and the quality of the stitches will only depend on how good your skills are.
On the other hand, precisely for how affordable they are, and as they often come straight for third-world countries, you shouldn't expect the machine to arrive beautifully packed. In fact, is more likely that you'll have to clean the extra oil and sometimes even change or sand the presser foot to avoid it from scratching delicate items. Nevertheless, they're iron cast which makes them super strong, so be certain that any of these cobbler sewing machines will last for ages without any issue.
You'll love going back to our roots with this super affordable and great investment. Any sewing room could use one of these tough and reliable mechanical sewing machines.
Still curious about these machines? Learn more about hand sewing machine.
Affordable for every pocket
Long-life durability
Fix and make all sorts of goods, from leather shoes to vinyl bags
The tripod stand is a bit flimsy
You may want to use a strong surface as a base to take the best out of these machines
Rough edges need fixing to avoid potential scratches
Best for Amateurs. Leather Patcher Sewing Machine Review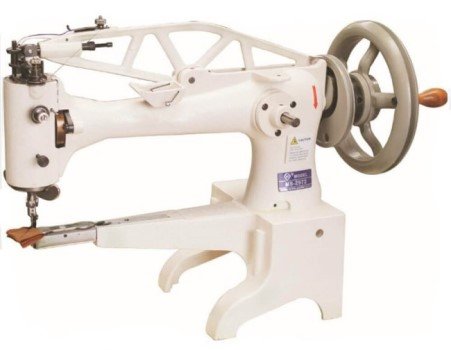 Check Price
This leather patcher, designed specifically for leather crafters, sews at a low maximum speed and allows the user to rotate the head in any direction by moving the handle, making it ideal for sewing on difficult corners like shoulders or inside hats.
Since the feed dogs do not move in unison with the upper foot, it can't be considered a walking food machine. It's basically a jump foot sewing machine, and it can be driven manually or by motor.
This dual functionality, combined with its horizontal cylinder bed, makes it an excellent choice for leather makers who don't want to spend a fortune on a far more specialized machine but would like to have the motor capability that cobbler sewing machines can't provide.
Super long throat
Can be used by hand or mechanically
Horizontal cylinder bed ideal for bags, saddles, shoes, hats, etc.
Minor assembly and sanding is needed for proper functionality
Shoes Cobbler Sewing Machines Comparison Chart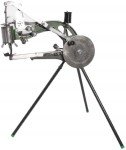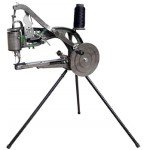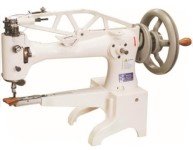 Machine
Price
Features
Accessories Size
& Dimensions
Ideal for
Warranty Conditions

FamYun
Read Review
Check Price
– Hand Crank

– Cylinder Bed

– Iron Made

– 360º
Rotating Foot
allowing
Reverse Stitches
– Throat Depth
11.8″ (300mm)

– Presser Foot
13mm

– Standard
Needle System
130×15 & 135×15

– Needle
#15 to #22

– Maximum
Thread Size
#138

– Stitch Width
6mm

– 21″ x 14″ x 6″
– Thin to Thick Leather up to 15mm

– Heavy Materials:
nylon, cotton wire,
high heels, leather shoes,
rubber shoes, raincoats,
leather bags, etc.
– Free Return

– No Info on
Warranty

Kekeross
Read Review
Check Price

Ironwalls
Read Review
Check Price

Hand Crank Patcher
Read Review
Check Price
– 500 spm*
– Long Cylinder Bed
– 360º
Rotating Foot
allowing
Reverse Stitches
– Lock Stitch
– Throat Depth
11.8″ (300mm)

– Needle System
794 Series and 7×3
– Thread
#69 to #415
– Stitch length
4 to 16mm

– 22.5″ x19.5″ x11.5″
– Extra Thick Leather up
to 3/4″ (19mm)
– Thick Materials:
rubber, plastic, canvas,
shoes, boots, bags,
cylindrical items, etc.
– No Free Return
– No Info on
Warranty
*Speed Per Minute: referring to the number of stitches a machine can perform in a minute.
Click to rate this post!
[Total: 8 Average: 4.4]
Some other articles you may want to read: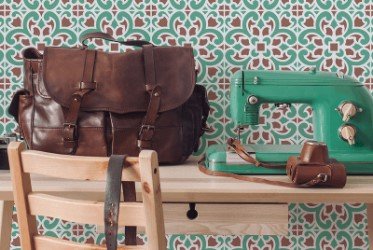 Best Leather Sewing Machines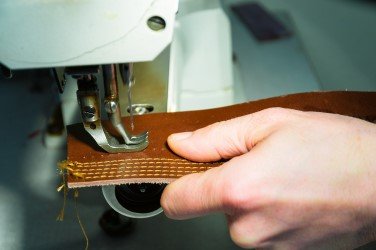 Best Walking Foot Sewing Machines for Leather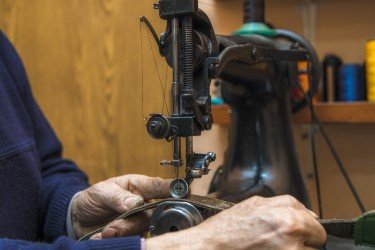 Best Hand Leather Sewing Machines