It's never easy to spend money without a backup review. Did the machine work out of the box? Do embroidery designs look professional? It is no easy task, I understand that. So after reading that the bestseller Brother PE770 Embroidery Machine is discontinued, my eyes went straight for their newest and improved model, Brother PE800.
Apparently, after fixing the most common issues experimented on by PE770 users, Brother manufactured a much brighter version for a very similar price.
And guess what, 80% of users have rated it with over 4 out of 5 stars.
That's why in this article you will find all the information and reviews about the Brother PE800 embroidery machine that users have mentioned, to help you decide while saving you loads of searching.
Did it work out of the box? Do designs look professional? It is no easy task.
For whom is this embroidery machine?
Thanks to how easy to use it, the Brother PE800 becomes particularly ideal for beginners of all ages. Moreover, the large color LCD screen has been designed to encourage the youngest to navigate through the broad range of options that it entails.
Besides, its features make it so flexible that it will easily cover the demands of highly experienced machine embroiderers and small home businesses.
    Use good quality upper thread, correct the weight of the bobbin thread (90 for the PE800), stabilize your material correctly, and you shall have a really perfect time using this machine.
I have added the links to some of the manuals of this model in case you have specific questions and you rather have a look for yourself.
Brother PE800 Embroidery Designs Guide
Brother PE800 Manual
Brother PE800 Reference Guide
Nevertheless, if you want to read an overview of all the design options, features, warranty conditions, and more, scroll down and keep reading.
Brother PE800 Embroidery Designs
Here are all the embroidery designs for Brother PE800 that you could use.
138 Built-In Embroidery Designs
This amazing machine comes with 138 designs, that is counting in 11 embroidery fonts to help you personalize your designs. Plus, a CD with 15.000 more designs. And on top of it, you can use the design editing features to rotate, mirror-image, increase and decrease the design size.
Brother PE800 Software
Brother PE800 does support digitizing software so, if you want to convert your files from .jpg or .jpeg into .pes or .dst format you can always create and export your patterns with it. And no, I'm afraid Brother PE800 does not come with any software included. You will have to buy it as an extra shall you need it.
I would say this one is the best embroidery software for Brother PE800.
iBroidery
Compatible with iBroidery to allow you to import any special design that you wish to embroider.
Disney Designs
This machine, in particular, doesn't bring any Disney designs. Nevertheless, you could always export them from your computer or have the option to buy some from Brother USA or iBroidery.
If you expected this machine to include some Disney designs, don't get discouraged, this other model from Brother does come with 45 Disney designs.
Tips before buying Brother PE800 Embroidery Only Machine
Take into account that you will need stabilizers to embroider your designs. It prevents puckering and keeps the threads in place, so purchasing some good stabilizer becomes a must. It will also help with making your designs look professional.
If you want to save some days of delivery waiting, order some extra needles since these will be breaking now and then.
You could use a stand-up type holder for the spool of the upper thread to keep your needles from breaking too often.
Some special machine embroidery thread might also be of use.
When using the hat hoop, you might need to flatten the cap out by removing stitches for a proper embroider before sewing the seams back.
Search on YouTube for some tutorials since there are plenty of them and can be very helpful.
Sometimes these machines don't arrive with the right bobbin and thread tension, and amateurs end up thinking that there is something wrong with their new unit or even that the model is actually of poor quality. Again, Youtube is your new best friend.
I recommend being patient. Embroidering with Brother PE800 is easy once you know how to use it. Watch some tutorials on the topic online and learn, learn, learn. I promise you, once you get it set, you will have a very reliable machine performing flawlessly: no birds' nests and no broken upper thread.
*Stabilizer: A material used to support the fabric being embroidered on to keep it from puckering or stretching. Choosing the right stabilizer for each project has a huge impact on the final result.
The possibilities are limitless with this machine. It is excellent for people just wanting to do small things. It works on any fabric using the right needle for it from leather to denim.
Beginners cannot go wrong with it if you ask me.
If all your machines are of the same brand, most of the time, you will be able to interchange its accessories.
Buying cheap embroidery thread will end up in an over expense of different materials due to thread breaking up often.
    Don't be scared if you don't know much about software, modifying file format, or altering your patterns on the machine's LCD screen. Nowadays you can Google any specific difficulty and find your answer in a few clicks. Or look for a more obvious answer on YouTube. Up to you.
What more to Know before Buying Brother PE800
If you are new to embroidery, another thing to consider is all the accessories that are needed to embroider for the first time: stabilizers, embroidery threads, etc. It might look like you are just expending money on the actual machine, but the reality is that if you don't have any embroidery material at home, you could easily need $150-$300 in additional expenses to take full advantage of this machine.
Wondering where to buy the Brother PE800 embroidery machine?
About Brother PE800 file format
I know it sounds boring but something very important that is often overlooked when choosing a new embroidery machine is the design format that it can read. In this case, with Brother machines, you will have to convert them first into .pes format if you want to embroider your designs.
But, in the end, only professional machines will read .jpg or .jpeg formats. A small sacrifice to save several thousand dollars. Besides, you can always look up online how to convert your designs from .jpg or .jpeg into .pes or invest in some embroidery digitizing software.
Personalize patterns and edit your designs on-screen
Excellent quality of stitching for a fair price
138 Built-in designs including 11 fonts (check here)
Easily transfer your designs to the machine with an USB
There is no storage space in this machine
Key Features of Brother PE800
It's is a single needle machine which means that you will have to change threads if your design is multi-colored. But cheer up because this model will stop after finishing with each color and let you know which thread to set up next.
It includes on-screen editing features which makes customizing a design so much easier. Also, the color screen is clear and easy to use, allowing you to see what you are embroidering.
Put any embroidery patterns on the machine to embroider with the USB flash drive port.
This model of embroidery machine is very easy to use and has a great learning curve which makes it ideal for beginners. With a good read of the manual and some YouTube tutorials to adjust the tension, anyone could use it.
The price is usually a key factor when choosing a new machine. Luckily for all of you out there, the Brother PE 800 is highly affordable so if you have a limited budget, keep reading.
   If you want to embroider designs bigger than what a 5″ x7″ hoop could take unless you are willing to realign it, be aware that you might outgrow this machine soon.
Some more Features of Brother PE800
Brother PE800 Hoops
The machine comes with a unique 5″ x7″ hoop and, in this case, the most extensive pattern that the machine will read is 5″ x7″.
However, you could reposition the hoop allowing a larger design. Just split the pattern into two or more pieces. You will then need to embroider one after the other. Don't forget to practice beforehand since alignment is crucial.
The unit does allow for exact positioning with a bit of patience.
Color Touch LCD Screen
On this new model, you can add and edit multiple designs and fonts on-screen; you can drag and drop embroidery patterns, you can place letters in an arc and on two lines, and you can even move and position your design with the touch of your finger. I find it very intuitive and perfect for all levels of users.
Furthermore, the PE800 has a built-in color palette that allows you to change the original thread color on the screen. Just wow!
Automatic Needle Threader
With a touch of a lever, the machine will thread the needle for you.
When embroidering I recommend you buy a big box of pre-wound bobbins, so you don't need to wind your own. The bobbin uses a 90 weight bobbin thread.
This machine works on 110V. However, you could always use a converter if you need it for 220V.
Super Bright Work Area
The embroidering area and around the needle counts with two bright LED lights that will be especially useful when sewing dark fabrics or positioning the designs in the hoop. This way, you will save your eyes some unneeded effort.
Great for Beginners
This machine happens to be the perfect embroidery tool for beginners but, remember that this is an only embroidery machine. It does not sew. You could quilt and do appliqué with it, but it will never work as a sewing machine.
Free Motion Quilt
If you drop the feed dogs, you will be able you use this machine for quilting. You can always download quilting designs from the internet, but remember to purchase the proper presser foot "Q" if you don't have one yet.
Appliqué
How could an embroidery model so complete as such not do appliqué? It does a fantastic job with this type of embroidery, and if you don't have your designs, you could always go for the grand slam package since it comes with a CD that contains a lot of appliqué designs.
Hats, T-Shirts and Socks Embroidery Hoops
All other hoop sizes must be bought separately, which might be a downside, right? They're not the best quality, although they do work just fine.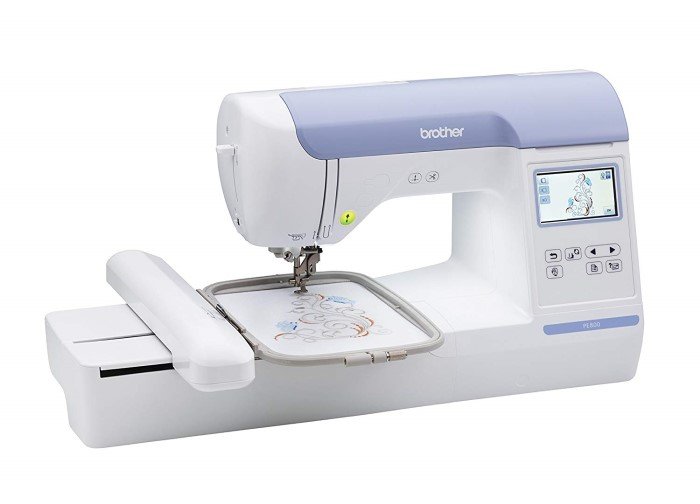 Best Brother Embroidery Machine Only Comparison Chart
Here is a comparison of several Brother embroidery machine bestsellers, where you can compare all the different features that the reviewed machine will offer you.
It is interesting noting that all these single-needle machines are ideal for both beginner and intermediate users.
Machines
Price
Embroidery
Features
Screen
Other
Features
Dimensions
Our
rate
Brother PE800
Check Price
850 spm*
5″ x 7″ Area**
138 Designs
11 Fonts
– Color Touch
LCD
– On-Screen
Editing
Automatic
Needle
Theader
210mm
Needle to Arm
13.74 lbs
21.8″ x19″ x19.1″
Beginner
to
Advanced
Brother PE770
DISCONTINUED
650 spm*
5″ x 7″ Area**
136 Designs
6 Fonts
– Grey Scale
Touch LCD
– On-Screen
Editing
–
210mm
Needle to Arm
13.74 lbs
21.8″ x19″ x19.1″
Beginner
to
Advanced
Brother PE535
Read Review
Check Price
400 spm*
4″ x 4″ Area**
80 Designs
9 Fonts
– Color Touch
LCD
–
125mm
Needle to Arm
10.82 lbs
16.5″ x 7.8″ x 12″
Beginners
&
Intermediate
Brother PE550D
Read Review
Check Price
400 spm*
4″ x 4″ Area**
80 + 45
Disney Designs
6 Fonts
– Color Touch
LCD
–
125mm
Needle to Arm
10.82 lbs
16.5″ x 7.8″ x 12″
Beginners
&
Intermediate
*Speed Per Minute: referring to the number of stitches a machine can perform in a minute.
**Area: referring to the maximum embroidery area that an embroidery machine can reach.
You may also be interested in a comparison of the best Brother Sewing and Embroidery Machines Reviews.
Warranty Specifications
Most Brother home machines, including PE800, have a very decent warranty that includes the following.
25 Years from the original purchase date for the Chassis Casting
5 years from the original purchase date for Electronic Components and Printed Circuit Boards (replacement labor excluded)
1 year from the original purchase date for Parts, Labor, and accompanying Accessory Items
Brother PE800 Embroidery Machine + Grand Slam Package
Apart from the actual machine, the Brother PE800 Grand Slam Package option includes every basic accessory that you will be needed when using your machine for the very first time.
It is ideal for beginner users who haven't got ahold of all the necessary bits and pieces that embroidering actually implies.
The Grand Slam Package of this unit includes:
64 Embroidery Threads
Prewound Bobbins
Cap Hoop
Sock Hoop
Stabilizer*
15,000 Designs
Scissors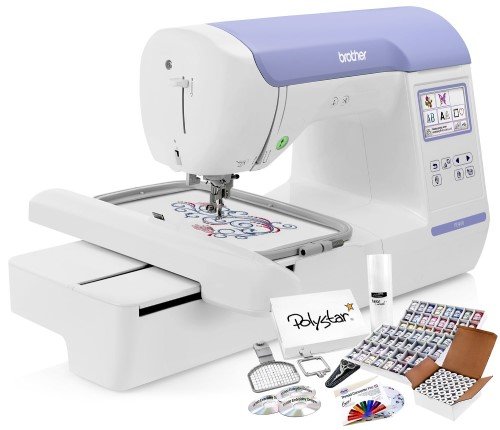 *Stabilizer: A material used to support the fabric being embroidered on to keep it from puckering or stretching. Choosing the right stabilizer for each project has a huge impact on the final result.
Now, we know that the value of a package of 64 Embroidery Threads is around 60$ and, that the difference of the Basic Package with the Grand Slam Package is 200$ approximately.
With this in mind, and taking into account the amount of time waste and frustration that you will get once you realize that you need to order more items in order to start embroidering with your new machine, I would say that the Grand Slam Package is actually worth the extra money.
Nevertheless, if you already have some of these accessories at home, be cautious. Choosing this great value package could turn out to be a waste of money in your case.
Some other articles you may want to read: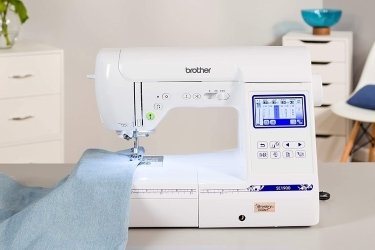 SE1900 Sewing and Embroidery Machine Review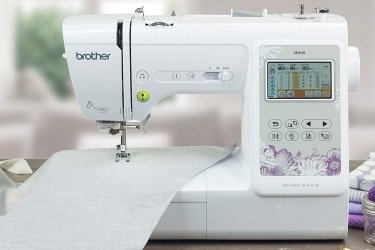 Brother SE600 Sewing and Embroidery Machine Review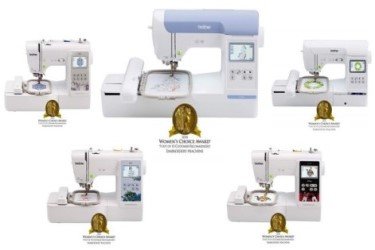 Brother Embroidery Machines
FAQs
What is the difference between brother pe800 and pe770?
New Brother PE800 vs discontinued PE770 has the following upgrades:
– Color LCD Screen vs Grey-scale one.
– 850 speed of stitches per minute vs 650.
– 138 built-in embroidery designs vs 136.
– 11 built-in fonts vs 6.
– Added automatic needle threader vs. manual.
Read a full review of Brother PE800.
Can you sew with the brother pe770 or pe800?
No, both models are embroidery only machines which means that those can only perform 2D embroidery designs like those of logos or T-shirts and not sew straight.
Which Brother embroidery machine is the best?
If you don't want to spend over 5k for a professional machine, the best option in the market is the new Brother PE800 (full review).
However, some other very good options are, depending on your needs, Brother SE600, Brother PE535, Brother PE550D (Disney designs included) and combo machine Brother SE1900.
Read here a complete review of all the above-mentioned models.