Many people wish that they could work with leather but are put off because they perceive it as pricey. These days, nothing could be further from the truth, a quality leather stitching machine is well within everyone's reach—and the best hand-operated models will be able to stitch up other heavy-duty materials as well.
In this article, we will highlight seven of the best machines with leatherworking capabilities. They will come at a variety of price points to suit almost anyone's budget, but all will be of a quality that is sure to please experienced leathercrafters.
Read more about Best Leather Sewing Machines
Top 7 Best Hand Leather Sewing Machines
7. Tandy Tippmann Boss Leather Sewing Machine Review
Best Hand Powered Leather Sewing Machine.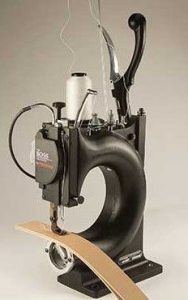 The ever-famous Leather Tippmann Boss is a portable hand powered stitcher that can be mounted or clamped to any surface.
With every pull of the handle, the needle will easily stitch through any piece of leather—it's capable of piercing leather up to 19mm thick!
The Tandy Tippmann and Yeqin model below are often compared with one another. The Tandy has a narrower throat but it able to pierce much heavier materials. It is the "Boss" of hand-operated machines thanks to its piercing abilities—which few other machines can compete with.
While no longer a fully cast-iron body, the use of aluminum makes this model lighter and more portable. And even though there is a small downgrade in durability, this machine will still last for ages with greatly increased movability.
What you'll like:
Can stitch through multiple layers of leather with ease
Superior quality stitches
Lightweight
Cylinder Bed
To take into Account:
It's quite expensive for what it does
Shallow throat area
6. YEQIN Leather Patcher Sewing Machine Review
Best Hand Crank Leather Sewing Machine.
This hand crank model from Yeqin was specifically designed for leather crafters. It is operated manually and has a low maximum speed, but it has a multi-directional head that is perfect for sewing on leather.
This is not a walking foot machine, as the feed dog doesn't move simultaneously with the upper foot. However, as a jump foot machine, it does offer the possibility of being powered either by hand or by motor.
Coupled with its horizontal cylinder bed, this machine's dual usability makes it a great option for leathercrafters that want a motor but aren't looking to break the bank. And thanks to its motor, this machine can provide professional features that hand-operated machines just can't offer.
Lastly, there will be some minor assembly required (including sanding) to guarantee proper operation.
What you'll like:
Super deep throat
Can be used by hand or mechanically
Horizontal cylinder bed ideal for bags, saddles, shoes, hats, etc.
To take into Account:
Minor assembly and sanding might be needed
5 to 1. Best Hand-Operated Sewing Machines
There is a five-way tie for our top pick, as every cobbler-style sewing machine provides similar benefits—and considerations—and can be an excellent value for the money to any leatherworker.
You probably know that these hand-operated sewing machines are the cheapest version of what cylinder-bed sewing machines can achieve. The reality is that, if you already have a flat-bed machine for leather, or even if you don't, a cobbler sewing machine can be your best option to repair all sorts of items with tricky corners that can be difficult to access such as leather shoes, boots and sneakers, the shoulders of leather jackets, or leather bag straps.
This style of machine can typically be had for a little over a hundred dollars and can really come in handy when working with certain items. Many leather crafters claim they are life savers! I love how we are now going back to basics, to our roots, and getting interested in these simple machines that are so common in countries like India or Morocco.
And because many times cobbler machines will arrive straight from Asian or African countries, be prepared to clean off any excess oil that may be present after unpacking.
And while truthfully these machines may look rough upon reception, thanks to their full-cast-iron construction, with a little cleaning they will soon become usable.
Also keep in mind that the dealers of these machines are often surprisingly nice and wholly capable of providing quality customer service. This is in addition to their other services such as quick shipping and offers for full refunds along with several months of warranty (depending on the manufacturer).
Lastly, the included nylon web is often garbage, so be prepared to use your own high-quality thread and leather needles.
What you'll like:
Super affordable
Long-life durability
To take into Account:
Unstable tripod
Needs a strong surface as a base
Rough edges must be fixed to avoid scratches
Hand Sewing Machines Comparison Chart
Machine
Warranty Conditions
Features
Accessories Size
& Dimensions
Ideal for
Price

Tandy Leather Tippmann
Read Review
– 1-Year Warranty
– 30-Day
Money-Back
Guarantee
– No Free Return
– Hand Crank
& Mechanic
– 1100 spm*
– Short
Cylinder Bed
– Needle System
794 Series 7×3
– Thread Size
#69 to #415
– Throat Depth
6.5″
– 15.5″ x 6.25″ x 12″
– 21 lbs
– Extra Thick Leather
up to 3/4″ (19mm)
– Heavy Materials:
canvas, nylon,
urethane, plastic,
sheepskin, etc.
Check Price

YEQIN Leather Patcher
Read Review
– No Free Return
– No Info on
Warranty
– 500 spm*
– Long Cylinder Bed
– 360º
Rotating Foot
allowing
Reverse Stitches
– Lock Stitch
– Needle System
794 Series and 7×3
– Thread
#69 to #415
– Stitch length
4″ to 16″
– Throat Depth
11.8″ (300mm)
– 22.5″ x19.5″ x11.5″
– Extra Thick Leather
up to 3/4″ (19mm)
– Thick Materials:
rubber, plastic, canvas,
shoes, boots, bags,
cylindrical items, etc.
Check Price

FamYun
Read Review
– Free Return

– No Info on
Warranty
– Hand Crank

– Cylinder Bed

– Iron Made

– 360º
Rotating Foot
allowing
Reverse Stitches
– Throat Depth
11.8″ (300mm)

– Presser Foot
13mm

– 21″ x 14″ x 6″

– Standard
Needle System
130×15 & 135×15

– Needle
#15 to #22

– Maximum
Thread Size
#138

– Stitch Width
6mm
– Thin to Thick
Leather up to 15mm

– Heavy Materials:
nylon, cotton wire,
high heels, leather shoes,
rubber shoes, raincoats,
leather bags and others,
etc.
Check Price

IronWalls
Read Review
Check Price

Toolly
Read Review
Check Price

O'Lenyer
Read Review
Check Price

Kekeross
Read Review
Check Price
*Speed Per Minute: the number of stitches a machine can perform in a minute.
Check also:
Best Sewing Machines for Leather
Best Walking Foot Machines for Leather
Buyer's Guide: Hand Leather Sewing Machines
What to know before deciding on a specific Hand Sewing Machine for Leather?
Sewing Area and Space Size
It might seem pretty basic, but one of the most common mistakes people make when buying a new sewing machine is overlooking how much space they will need in two instances. First, how much space they will need for the footprint of the machine itself, and second, how much space they will require in a machine for different fabrics and garments.
You may also want to have a look at different sewing cabinets if you don't have one yet.
Always measure the space where you will be using your new sewing machine.
Price of a Hand Leather Stitching Machine
The cost of hand sewing machines specially made to sew through heavyweight materials varies from $120 to $1,000.
And while $1000 may seem like a lot of money, many hand-operated machines can cost a fraction of the price while still being able to stitch through thick pieces of leather. So, if you don't want to spend a lot of money on an industrial machine, a simple hand-operated machine might be a perfect addition to your sewing space.
Must-Have Tools to sew Leather with a Hand Crank Sewing Machine
Some special accessories that you will need are:
· Leather Sewing Needle
For those that don't know, you will need a specialized sewing needle in order to work with leather. This is because leather is thicker than most other materials your machine will work with, and thus requires a needle with a special bottom to be able to easily stitch through leather.
It is easy to tell if you have the right needle or not, if your needles continue to fail, you're probably using the wrong type. It's that simple. However, as leather needles will get dull faster due to leather's tough characteristics, it can be handy to keep a spare or two on hand.
· Leather thread
Using the correct thread will save you loads of breakage and time. Besides, when using the right thread, your pieces will look a lot more stylish and will last longer.
· Leather Toolkit
There are a variety of basic tools that often come together in a kit that can be useful for beginners to get a hold of. Look for a kit at your local hardware store or online.
· Walking Foot
This accessory will allow you to stitch the leather without persistent slips. Remember that you will need either a walking foot or a sticky silicone one in order to sew on leather. Otherwise, feed dogs won't perform, the needle will sew where it's not meant to, and your latest leather creation will become messed up.
If you know you will continuously work on heavy-duty materials, you should probably buy a machine with a built-in walking foot, instead of adding an accessory. Have a look at the Best Walking Foot Machines for Leather.
· Powder
Here's a pro tip: Add some powder to the area that is being worked on to greatly diminish the chances of the leather sliding around during sewing.
Sewing Leather with a Hand Sewing Machine
Be forewarned, leather must be treated with special care and can be easily scratched. At the same time, leather is also heavier and harder to handle than most other sewing materials. You will often have to use many different-sized needles and threads in order to achieve the final look that you want.
Some tips on how to sew leather on a hand sewing machine
Remember that leather is a durable yet fragile material, once a stitch is made, it can't be taken back, so be sure you have a good idea of what you are doing before proceeding. You might also want to practice difficult stitches before attempting them on your actual item
Other options for joining two pieces of leather besides stitching include pinning them, using leather glue, or, if time is of the essence, a quick bit of double-sided tape.
If your home sewing machine doesn't have a walking foot, try applying powder to help prevent it from sticking to the leather. A non-walking foot that is made of plastic is always another option. Either option will result in leather that won't get stuck and more precise stitches.
A tip for beginners: Start by sewing the simple parts first for some easy practice before moving on to the more challenging portions of your projects.
To easily add flair to any piece, cut the thread off after you've finished sewing and carefully burn the end. Next, pass over with your finger, this ensures the leather doesn't get damaged and stitches won't get loose.
Of course, there are many more tips than just the basic ones above. Next steps include working on a larger scale and with more premium leather tools along with plenty of practicing to ensure you have the skills to make a quality leather product. Remember, practice makes perfect!
Leather Sewing Needles and Thread
You may wonder why so much importance is often placed on both the needle and thread that we use when working with leather, and this is with good reason, as both are prime sources of the issues that most leatherworkers will run into.
So, don't worry, there is probably nothing wrong with your machine, other than you're using the wrong needles. The fix is simple, learn new skills and habits and always remember the following three key points:
The size of the needle that your machine can handle (check your owner's manual)
The needle size required for a particular material
The size and type of thread that your project requires
Needle and Thread for Leather Sewing Machine
A leather sewing needle and the right thread are two indispensable accessories for any leatherworker who regularly uses a machine or hand stitches.
Leather needles have a point with a specifically designed bottom that makes stitching through different types of leather a breeze. So, if your needle keeps on breaking, it simply may just be that you are using the wrong one and upgrading to a leather needle could solve all your problems. It's often just that easy!
Nonetheless, it's always a good idea to keep at least a couple of spares on hand, as even the most durable leather needle will inevitably become unsharpened, break off, bend, or otherwise gives in.
Choosing a thread that can resist the stress that will be put on it when leather working is of the utmost importance. There are a couple of factors to be considered, first is the size of the needle needed for the material. Second, consider the thickness of material to be sewn. Different stitches will also create different effects. And, depending on all of the above factors, you might need a different thread texture, color, and composition for each leather project.
Most leatherwork takes place with threads made of nylon or polyester. In general, you can assume that finer fabrics will require smaller thread and needles, as the wrong size would either damage fragile materials or make the thread break frequently due to over-tension.
And, again, be forewarned that you need to select the appropriate material width, needle size, and thread weight, or the machine could get jammed.
Needle and Thread for Hand Sewing
As we hope we've made clear by now, due to how tough leather is, if you want to stitch it by hand, you'll definitely want a leather needle
Nowadays, you can easily buy online inexpensive leather toolkits and even use them to prepare and finish the leather pieces before hand-crank sewing them.
In the end, the tricks mentioned above for a hand sewing machine work just as fine when hand stitching leather, and if you make a habit of always double-checking the needle size and thread that you need for your project, you will avoid material waste after using the wrong accessories.
Maintenance and operation for Hand Operated Machines
1-. To increase your machine's service life, make sure to activate it daily. This will help ensure that your machine remains easy to operate, doesn't produce excess noise, and works efficiently.
2-. Adjust the stitch length depending on the sewing material you are going to use. When the stitch length is long, simply loosen the needle length screw. When the stitch length is short, the seam moves up.
3-. If you are working with a thicker material the pressure required will also increase. When this happens the tension spring nut can be tightened. This will increase the tension spring's tension and apply more pressure to the pressure foot and vice versa.
Some other articles you may want to read: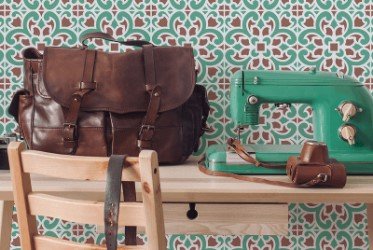 Best Leather Sewing Machines
Best Cobbler Sewing Machines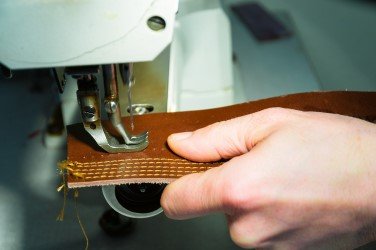 Best Walking Foot Sewing Machines for Leather
FAQs
What kind of sewing machine can sew leather?
If you have a high budget and will be sewing leather non-stop, the ideal sewing machine would be a walking foot sewing machine. However, if your budget is less than a few hundred dollars and you are handy, you might want to check a cobbler sewing machine. They do wonders and will last you a lifetime.
Can a regular sewing machine sew leather?
Any sewing machine can sew leather with the right foot and knowledge. Nonetheless, its motor could get damaged and eventually stop working as it hasn't been designed to stitch through heavy-duty materials.
How much does a leather sewing machine cost?
The price of a sewing machine for leather can vary from only a hundred dollars if you go for a hand crank sewing machine, to several thousand if you prefer an industrial walking foot sewing machine.