A pick for every need, from beginners to professional sewing.
Learning to sew may seem daunting if you haven't done it before, but the decision of what kind of sewing machine to purchase can be even more difficult!
There are so many different models and types out there to choose from. Here are the best sewing machines to buy, according to our sewing expert.
If you need some more information on how to decide on a specific machine, read our Sewing Machines Guide. Then, feel free to come back here to find your ideal machine.
Best Overall. Juki HZL-F300 Sewing and Quilting Machine
Built-In Stitches: 106 + 3 Fonts
Buttonholes: 16 One-Step
Included Feet: Standard Purpose, Overcasting, Blind Stitch, Buttonhole, Zipper, Manual Buttonhole.
As a basic model of the Juki F-Series, the Juki F300 is our overall best sewing machine because it offers the most wanted features for sewers wanted to upgrade and who don't necessarily want to pay for a lot of extra accessories. In this list, you'll also find the Juki F600 model that offers some more extra features and accessories for a higher price, perfect for the most advanced sewers and quilters.
What you'll love about this powerful machine is how much thread and time you can save thanks to the thread trimmer that you can trigger by clicking the scissors button or by tapping with your heel on the back of the pedal for better convenience. Most experience sewers swear by this feature once they've tried and you'll understand why when you do.
As one of the best computerized sewing machines on the market right now, Juki F300 offers you easy to set up functions such as changing the needle position from up or down to hold the fabric in place while handling it, locking the machine while you're deciding the next steps to follow or an intuitive speed slider for an even speed. It also comes with a clear bobbin case to let you know how much thread is left.
If all you need is a high-quality machine with the most basic advanced features to keep the price down, this ergonomic Juki will become the delight of your sewing room. It sews through apparel and home decor projects with real bliss.
Any sewing machine needs continuous oiling, so if after some hours of use you start hearing a rattling noise from the bobbin basket, don't get scared. Your machine is simply letting you know that it's time for some non-staining oiling underneath the bobbin insert as well as the hook.
What you'll like:
Automation Thread tension, another time-saving feature
You can detach the automatic trimmer function from the foot pedal if you want
It's heavy enough that it doesn't jump around while sewing
To take into Account:
The threader leaves room for improvement and sometimes stops working after several months
Pretty heavy to be moving around its 21.6 pounds
Best Value. Brother HC1850 Sewing and Quilting Machine
Built-In Stitches: 100
Buttonholes: 6 One-Step
Included Feet: General Purpose, Zipper, Buttonhole, Satin Stitch, Blind Hem, Overcast, Darning/Embroidery, Rolled Hem.
The monogramming font included with the Brother HC1850 is a fantastic feature to add a child's name to any garment. Moms would appreciate how handy this is.
What's even better is how easy it is for you as a complete beginner while still being advanced enough for you to continue improving your skills for the coming years.
This is an excellent candidate for your new hobby as it comes with a lot of features and a lot of different stitches. This model is ideal for everyday mending or making simple clothes. As a quilting machine, it can be a good starting point for beginners looking for a lightweight model to take to their first classes.
Best for Beginners. Brother CS7000i Sewing and Quilting Machine
Built-In Stitches: 60
Buttonholes: 7 One-Step
Included Feet: buttonhole, overcasting, monogramming, zipper, zigzag, blindstich, button fitting, walking, and spring action quilting.
As the updated version of long-time bestseller Brother CS6000i, the CS7000i sewing machine features 10 more decorative stitches, bringing it to a total of 70, as well as 10 presser feet, which will assist you as a beginner in practicing any kind of sewing crafts you want. 
And it's all thanks to a very user-friendly machine at a very fair price. Perfect for beginners who want an affordable machine with advanced features to never outgrow it.
Any of the Brother CS Series machines can be a great option for beginners.
Best for Quilting. JUKI TL-2010Qi Sewing and Quilting Machine
Built-In Stitches: Straight Stitch Only
Buttonholes: None
Included Feet: Standard, Zipper, Even Feed, ¼ Quilting.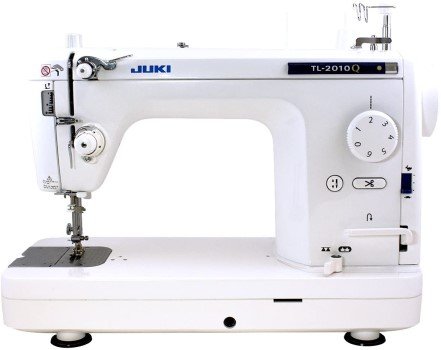 The Juki TL-2010Q sewing machine is ideal for quilting and piecing. It's a single needle, lock-stitch machine made of aluminum die-casting, much like industrial machines, but it's quiet and light enough to be a dream as a domestic sewing machine. You get industrial efficiency in what appears to be a regular home machine. It's truly the best of both worlds.
Notice the size of its throat now. This Juki has enough room for big projects like quilts and home decor, always producing a precise stitch. But what's even more impressive is how easily you can transition from regular sewing to free motion.
It's a fantastic heavy-duty sewing machine, and it probably delivers the best straight stitch for the money on the market.
What you'll like:
Designed for quilting.
Ideal for users who don't need a lot of decorative stitches and would rather have a great straight stitch machine with excellent stitching efficiency.
There is no learning curve for this machine
It offers a variety of thread-cutting options, such as an on-machine button or a foot pedal
You'll appreciate how easy it is to maintain
To take into Account:
It can be difficult to learn how to use the automatic needle threader, but once you do, it's extremely useful
While heavy-duty, it's not strong enough to sew through heavy canvas or leather on a continuous basis
No zig-zag or decorative stitches, only straight stitch
Juki doesn't make an open toe walking foot, but instead, you can get Janome's High Shank walking foot
Best for Making Clothes. Brother CS5055PRW Project Runway Sewing Machine
Built-In Stitches: 50
Buttonholes: 5 One-Step
Included Feet: Standard Purpose, Overcasting, Blind Stitch, Buttonhole, Zipper, Manual Buttonhole.
The Brother CS5055PRW sewing machine was the star of the TV Show Project Runway and since then it has become a favorite among youngsters who want to take their first steps into making their own clothes and all kinds of projects.
It comes with 50 decoratives stitches as well as 8 different presser feet for all kinds of sewing. Besides, you'll love how quiet even with the advanced features it includes.
Simply knowing that this is a Brother machine and considering what it would cost you to buy every presser foot as an extra accessory, you can see how worth it is. Keep it clean and well oiled and you'll have a dress-making tool for years to come.
What you'll like:
Good price for all the garments you can start creating
Very lightweight, making it perfect for taking to your lessons
To take into Account:
The built-in needle threader could work better
Best for Embroidery. Brother SE1900 Sewing and Embroidery Machine
SEWING
Decorative Stitches: 240
Speed per minute: 800
EMBROIDERY
Built-in Designs: 138
Speed per minute: 650
Included Feet: Standard Purpose, Overcasting, Blind Stitch, Buttonhole, Zipper, Manual Buttonhole.
The Brother SE1900 sewing and embroidery machine is designed for sewers of all ages and skill levels who want to improve their sewing skills and begin incorporating embroidery motifs into their projects.
The embroidery features include an embroidery area of 5″ x 7″ as well as 138 embroidery designs. Besides, it can efficiently embroider on any fabric of your choice with ease, allowing you to be as artistic as you want.
As for the sewing features, you get 280 decorative stitches and 8 presser feet. More than enough to get as creative as you want, making different garments and home decor projects. I mean, you could even run your own Etsy shop thanks to this machine.
Overall, what you'll love about this model is that is a machine that produces outstanding sewing and embroidery quality for a reasonable price.
What you'll like:
You can also use it for quilting and free motion
It includes a knee lifter to help you free your hands
To take into Account:
Higher budget as you get high-quality embroidery capabilities
You may want to read a full review of the Brother SE1900.
Best Heavy Duty. Brother ST150HDH Heavy Duty Sewing Machine
Built-In Stitches: 50
Buttonholes: 5 One-Step
Included Feet: Walking, ¼" piecing, buttonhole, overcasting, monogramming, zipper, spring action zigzag, blind stitch, button.
The Brother ST150HDH is a great sewing machine built for sewing tougher materials, thanks to its metal frame. It sews all types of fabrics and as many layers as the presser foot's height allows. It can handle anything from denim hems to delicate silk fabrics, making any garment maker's dream a reality at a very reasonable price.
If you've never threaded a machine before, rest assured that this one is a piece of cake. Like every other machine on this list, it comes with all of the attachments and presser feet needed by the average sewer. But, more importantly, it's compact enough to carry around while remaining sturdy enough to stay in place while sewing heavier fabrics.
What you'll like:
It has longer feed dogs than a standard domestic machine, leading to better fabric feeding and improved sewing performance
The clear bobbin case makes it easy to see when you need to load more thread while sewing
To take into Account:
Presser foot might be too short if you plan to sew on multiple layers of heavy-duty fabric
Best for Kids. Janome Arctic Crystal Sewing Machine
Built-In Stitches: 15
Buttonholes: 1 Four-Step
Included Feet: Blind Hem, Bobbin Buttonhole Sliding Buttonhole, Zig-Zag.
When looking for a sewing machine that any kid can easily use, it's always advisable to go for a simple, easy-to-use model with no bells and whistles and a heavy-duty interior. In the end, getting a more complicated model for a kid could in fact be an offset. And nobody wants to waste your money.
Kids will easily appreciate the fun and attractive look of the Janome Arctic mint color. Apart from making their work-station stylish, this sewing machine is still a reliable Janome machine with basic features for a stress-free experience. It's also the perfect size for young people that need to take their machine to lessons or simply moving it around in the house with safety.
Honestly, its 15 stitches with double-needle capability are more than enough for what any other kid will ever need.
What you'll like:
High quality from their very first sewing experience
As it is a mechanical model, with no computerized option, the child learns the basics of sewing, the foundation of this new hobby
Attractive and young aesthetic
To take into Account:
Best Serger. Juki MO644D Serger Machine
Speed per minute: 1500 spm
Number of Threads: 2, 3, or 4
Included Feet: Standard Presser Foot.
The Juki MO644D serger machine is able to stitch all kinds of fabrics, including wovens. You'll be impressed with how heavy duty this machine is for such a low price. And, as a daily reminder of the high quality that the Juki brand is known for, the knife cuts through the thickest sweaters after continuous use.
Its small size is perfect for sewers with limited space and households where a silent machine is key. This reliable model beautifully creates rolled hem, satin stitch, lettuce edges, gathering, or flat locking. Even experienced fashion designers use it to sew on all sorts of fabrics from denim layers to silk chiffon.
Although it lacks bells and whistles, it's the ideal 4 thread machine for your sewing room. It's well worth the money.
What you'll like:
It's worth every penny
Excellent stitching performance
You'll be buying a renowned brand with a flawless reputation
Fashion designer's favorite
To take into Account:
It only comes with the standard presser foot
Best for Advanced Sewers. Juki HZL-F600 Sewing and Quilting Machine
Built-In Stitches: 225
Buttonholes: 16 One-Step
Included Feet: Standard Purpose, Walking Foot, Quilt, Open Toe, Patchwork, Edge Sewing, Smooth, Buttonhole, Zipper, Manual Buttonhole, Overcasting, Blind Stitch.
As an advanced sewer, you probably need the versatility of a machine like the Juki F600, which has a large selection of decorative stitches and presser feet. Any sewer who enjoys making clothes or quilting will find this machine to be a great choice because the stitches are so flawless that it's impossible to tell which side is the top or bottom.
This model's feed is super smooth and never fails, helping your strain back to relax no matter what material you're sewing, from denim to chiffon. And your sewing companion will be taken aback by how quiet this machine is. Seriously! It's that good!
Furthermore, the automatic threading works flawlessly, and once you've used the thread cutting option, you'll wonder it took you so long to try it because now you'll use your hands strictly for handling the projects you're working on. Those features work so well that anything from mending to quilting becomes a joy.
What you'll like:
Hard Case and Wide Table Included
Sew with a range of fabrics, including chiffon, heavy denim, and even vinyl
It has a built-in threader that works flawlessly every time
It's light enough to move it around while heavy enough not to dance around while sewing heavy projects
It includes many fonts, which might be all you need if you plan on buying an embroidery machine soon for such a task
With the touch of a bottom, you can program the backstitching and cut threading to work together
To take into Account:
Higher price than the average domestic model
Click to rate this post!
[Total: 6 Average: 5]
Some other articles you may want to read:
Best Sewing Machines for Beginners
Best Sewing Machines for Kids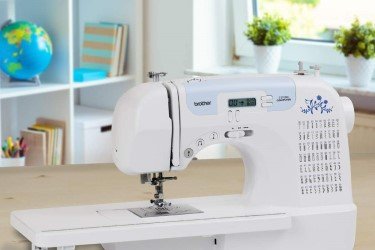 Best Brother Sewing Machines
Best Singer Sewing Machines
Best Janome Sewing Machines
Best Juki Sewing Machines
FAQs
Which brand of sewing machine is best?
While some brands are known for their top-notch quality, there's not a single brand you could point to as the best one. There is a tendency for Japanese brands – Juki, Janome, and Brother -, to built high-quality sewing machines for every price range. Brother is more mainstream while Janome and Juki are more high-end.
Read about some top sewing machine choices.
What sewing machines do professionals use?
Professionals usually work with metal chassis machines as they produce better quality stitches and offer higher reliability and durability. Nevertheless, you could see some professionals crafters using high-end domestic models for spare projects that may include decoratives stitches or embroidery. See a selection of industrial sewing machines like those used by professionals.
What is the best sewing machine right now?
Every year manufacturers release new models to the market, so we've selected the best sewing machines to buy currently.